DENVER'S BEST DIVE BARS




EVENTS
• Friday, January 29, 2010:
Reading!Discussion!Signing!Beer!
Tattered Cover Colfax Avenue (2526 East Colfax Ave); 7:30PM
Drew will discuss, read from and sign the book. Then he and whoever else is interested will drink $1.75 beers at the Satire Lounge (1920 East Colfax Ave).
http://www.tatteredcover.com/event/drew-bixby-denver's-best-dive-bars

PAST EVENTS:

• Tuesday, November 3, 2009: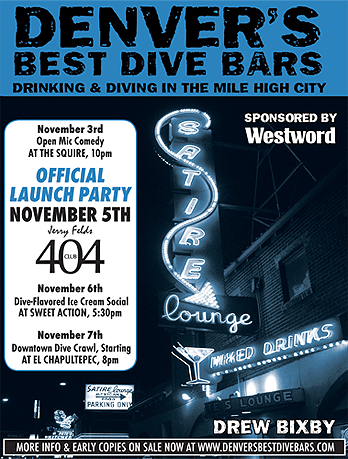 Book Giveaway and Other Shenanigans at Open Mic Comedy
Squire Lounge (1800 E. Colfax); 10PM

• Thursday, November 5, 2009:
Official Launch Party
Club 404 (404 Broadway); 8PM
Drink specials and appetizers; music by Radio 1190 and Postman; photobooth; book giveaway and reading; more!

• Friday, November 6, 2009:
Dive-Flavored Ice Cream Social
Sweet Action (52 Broadway); 5:30PM
UPDATE: The geniuses at Sweet Action are making Old Fashioned-flavored ice cream in celebration of the book's release.

• Saturday, November 7, 2009:
Downtown Dive Crawl
Starting at El Chapultepec (1962 Market St.); 8PM
8PM: El Chapultepec, 1962 Market
8:30PM: Herb's, 2057 Larimer
9:00PM: Star Bar, 2137 Larimer
9:30PM: Old Curtis Street Bar, 2100 Curtis
10:00PM: Bar Bar, 2060 Champa
*IMPORTANT: At Herb's, enter via the back door and tell the door person you're with the dive crawl; also tell the door person at Old Curtis you're with the crawl. This is the only way to avoid paying cover at these places.