DENVER'S BEST DIVE BARS




UPDATES
Got a tip for this page? Email it to denverdives@gmail.com.

—————
Turns out Bob Lyons, owner of the Brown Barrel, doesn't take offense to the term "dive" as was once rumored. I wrote about dropping into the Barrel to set the record straight in the 1/28/10 Drunk of the Week.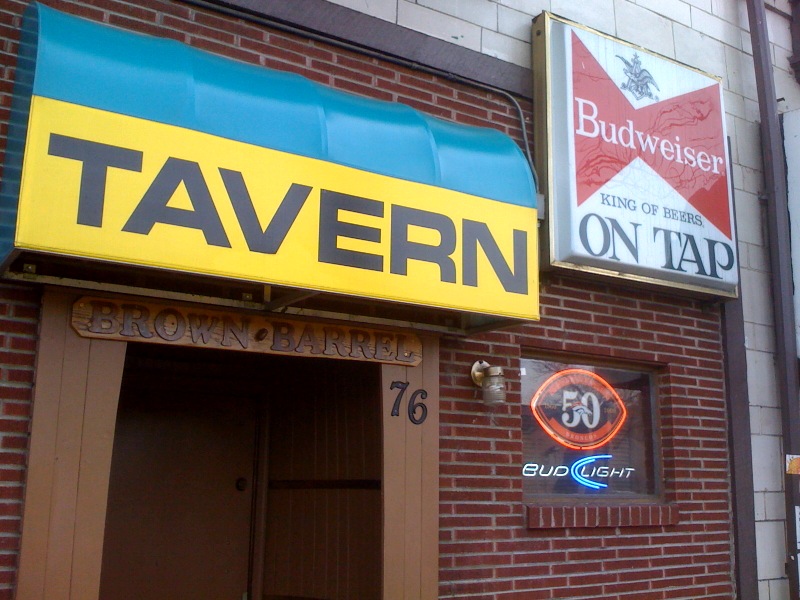 —————
The Cordial Lounge, which didn't make the book because it's in Lakewood (1521 Pierce Street), but which is in every way a wonderful dive, made headlines when a bunch of assholes attacked owner TJ Sazama with a knife and pool cue. Watch Sazama hold his own in the video below. (Thanks to reader Kathleen Wills for the tip.)




—————
Sam's Bar & Lounge is in the process of constructing a sizeable "Party Patio" extending off the west side of the bar, where the pinball and dart boards used to stand. When I visited in December, the walls were up and the concrete set, but the windows weren't in, so plastic sheeting took their place. Really shitty camera photo below: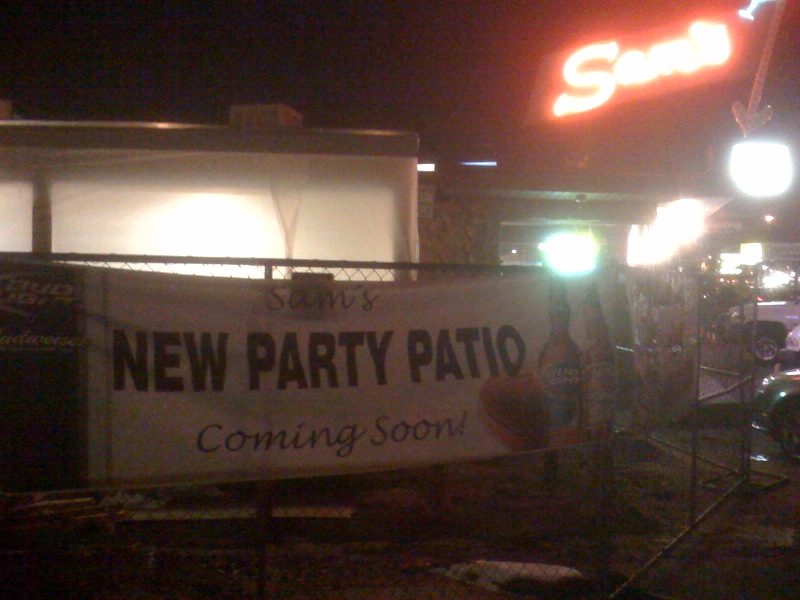 —————
Phil's Place went and gave itself a minor, completely tasteful, face lift. I originally wrote about it for my 11/19/2009 Drunk of the Week column. Excerpt below: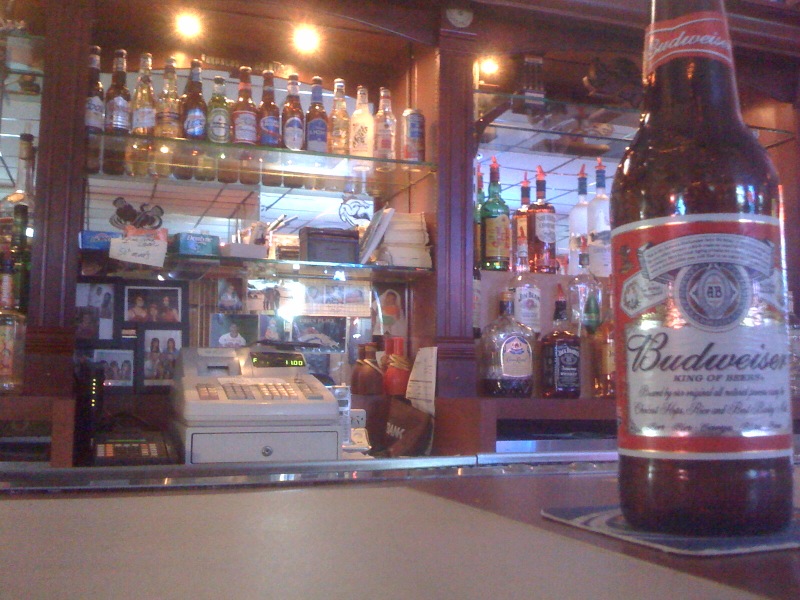 "The bar recently made some changes beyond anything the neighborhood might require. Phil's now boasts a wooden bar with cream tile inlays and a gorgeous back bar, all of it less than a month old. Three flat-screen TVs (for a total of four) are also new, as are a new kegerator system and cabinet that save bartendress Ana from having to trek downstairs for line changes and back stock. The highly skilled carpenter responsible for the transformation is drinking (hopefully free) Bud bottles down the bar from me, and Phil himself is washing dishes in the kitchen (which is open 7:30 a.m. to 5 p.m. Tuesday through Sunday).

Otherwise, not much has changed. Handwritten signs are still scattered about the green-carpeted room, silently enforcing the house rules: "No tabs — only when Phil's here"; "NO kids on Pool Table"; "Any pool ball knocked off the table!!! $1 in the JukeBox." Broncos logos and loyalty still appear everywhere — on hand-painted mirrors (not to mention a giant mural on the northeastern-facing outer wall), banners, pennants, bobbleheads and pompoms – though many of the little plastic helmets and jersey cozies that used to cover the beer bottles on the selection shelf behind the bar are gone."

—————
A terribly unfortunate publishing error left Westside Bar out of the book. My sincerest apologies to the owners and regulars, who deserved to be represented.
Below is what should have appeared: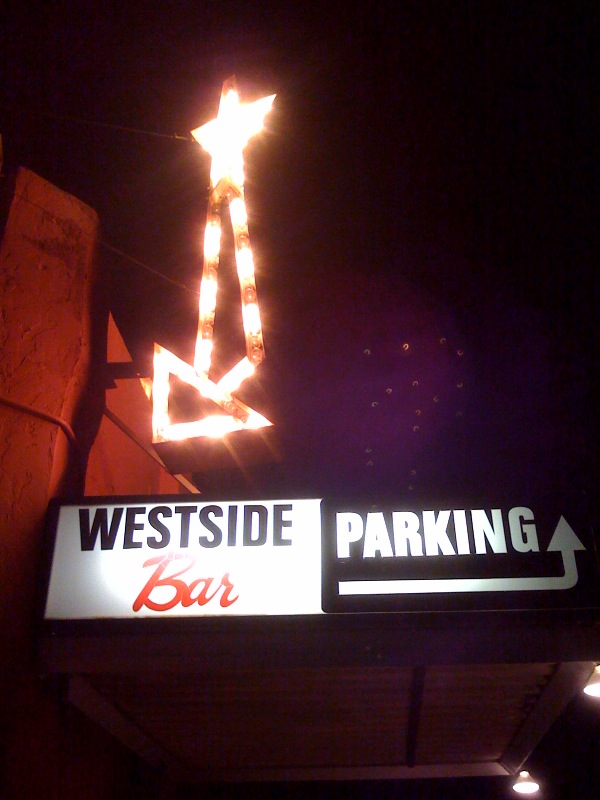 Westside Bar
778 Mariposa Street
303-623-1075







Across Eighth Avenue and just down the block, the neon-bright liquor store and a bodega are humming with activity — parked cars with their doors ajar, engines idling, low-end bass rumbling the parking-lot pebbles like un-popped kernels of corn; loiterers and potential customers huddling in circles, laughing loudly, talking shit. Two kids who must be under ten are kicking an empty plastic water bottle down the sidewalk toward me — finger-combing their black, wavy hair, rolling their shoulders, clenching their biceps and generally posturing like they wish they could win a fight. Directly across from me, three guys in dark coats are slowly sauntering — whistling in my direction, flashing plastic Baggies, trying to make a sale. I shake my head, no thanks, and shuffle back inside, away from the hustle and bustle brought on by an unseasonably warm winter evening.

The Westside Bar — "Denver's Favorite Sketch-Ass Bar Since 1934," according to T-shirts selling for twenty bucks a pop — has been under new ownership since July 2008 but retains much of its old charm. Tommy, a 44-year-old Latino gentleman with a warm smile and a nervous disposition, rubs his elbows on the well-worn black-and-silver Formica bar top and tells me his dad wore down many of these spots himself when Tommy was just five. He insists that Pat, a graying white guy in a Broncos hat and tapered blue jeans tucked into white tennis shoes, simply came with the place. An employee of some sort, Pat slugs complimentary Coors Light bottles, belches with stentorian force (though he excuses himself) and slow-dances with every lady who comes through the front door. "The former owners just wrote him into the contract, I guess," Tommy offers.

Friendly, welcoming characters from all walks crowd the long, narrow room and spill out both the front and back doors for cigarettes. On another break, I am joined by a woman who introduces herself as SinCity; she thinks she sees an ex-boyfriend loitering in front of the liquor store and wants to hide behind me while attempting to find out. She leans to my side and screams, "Hey, you bitch-ass doughnut!" — but it's not him. Back inside, a man of maybe 300 pounds orders Bud Light bottles, and the bartendress knows to bring him a pint glass of ice with olives, hot peppers and lemon slices on top. He slams 'em like teenage triceps in an unfair arm-wrestling competition and cries out, "I think someone drank my beer!"

Though the max-capacity sign claims 64, the Westside — with its green-painted wood paneling, two uneven pool tables and mismatched bar stools — could easily pack in a hundred. Probably more. A red-and-gray boombox on a shelf above the front door plays country-music radio (and commercials), though customers occasionally feed the Internet juke. PBR bottles are always $1.50, but happy hour (weekdays, 3 to 6 p.m.) draws the biggest crowds thanks to dollar draws, $3.25 pitchers and two-for-one wells. A sideways piece of wide-rule notebook paper advertises homemade burritos, beef or pork, for $2.

A more fitting slogan for the Westside Bar: A Friendly Neighborhood Spot Serving One of Denver's Most Sketch-Ass Blocks Since 1934. But that probably wouldn't fit onto a T-shirt.